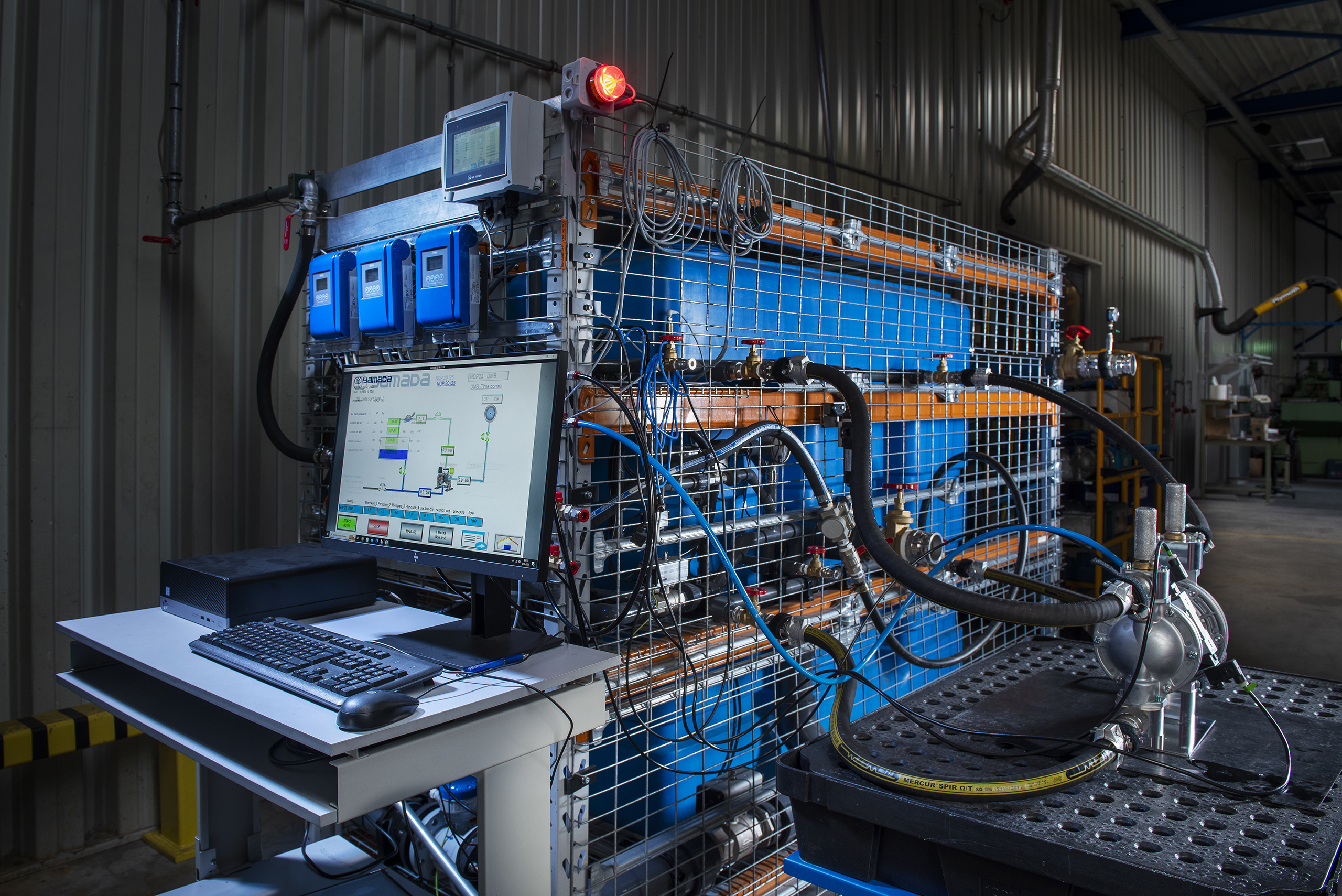 Frequently Asked Questions
Find here the most frequently asked questions about our AODD diaphragm pumps.
Max. temperature rates of diaphragms
Rubber Diaphragms
BUNA-N (NBR) -12º to 82ºC
NEOPRENETM (CR) -18º to 82ºC
NORDEL ® (EPDM) -40º to 100ºC
VITON ® (FPM) -29º to 120ºC
Thermo Plastic Diaphragms
(stiff materials)
HYTREL ® (TPEE) (Beige color) -18º to 120ºC
SANTOPRENE ® (TPO) (Black color) -23º to 100ºC
TEFLON ® (PTFE) 4º to 100ºC;
Combination Diaphragm
Long life easy clean
PTFE/EPDM Bonded (TU) (Blue color) 0º to 100ºC
(N)DP-10 UNTIL 25; PTFE/CR Bonded (TU) (Blue color) -10º to 80ºC

| | |
| --- | --- |
| | Particles sizes |
| NDP-05 SERIES | 0,0mm |
| DP-10/15 | 1,0mm |
| NDP-15 | 1,0mm |
| NDP-(P)20 | 2,0mm |
| NDP-(P)25 | 4,8mm |
| NDP-40 | 7,0mm |
| NDP-(P)50 | 8,0mm |
| NDP-80 | 10,0mm |

Yes, an AODD Yamada pump can run dry. Only this is not recommended for PTFE fitted pumps! And be aware of life time and energy use during dry running!

Yes. The discharge line may be closed with no power consumed, no temperature increases, and without damage or wear. The pump will simply stop when discharge pressure exceeds the air pressure. No pressure relief valve is needed. The DP/XDP and G-series are the best choice for dead-head applications, avoid using the NDP-15 series.

Yes, you can. Just run an air hose from the exhaust of the pump above fluid level. WARNING: It depends on the chemical resistance of the used materials, if you can submerse the pump into the liquid being pumped!

Yes, our AODD pumps are self priming. Wet suction up to 9 meters. Dry suction best with rubber fitted pumps and at low speeds.