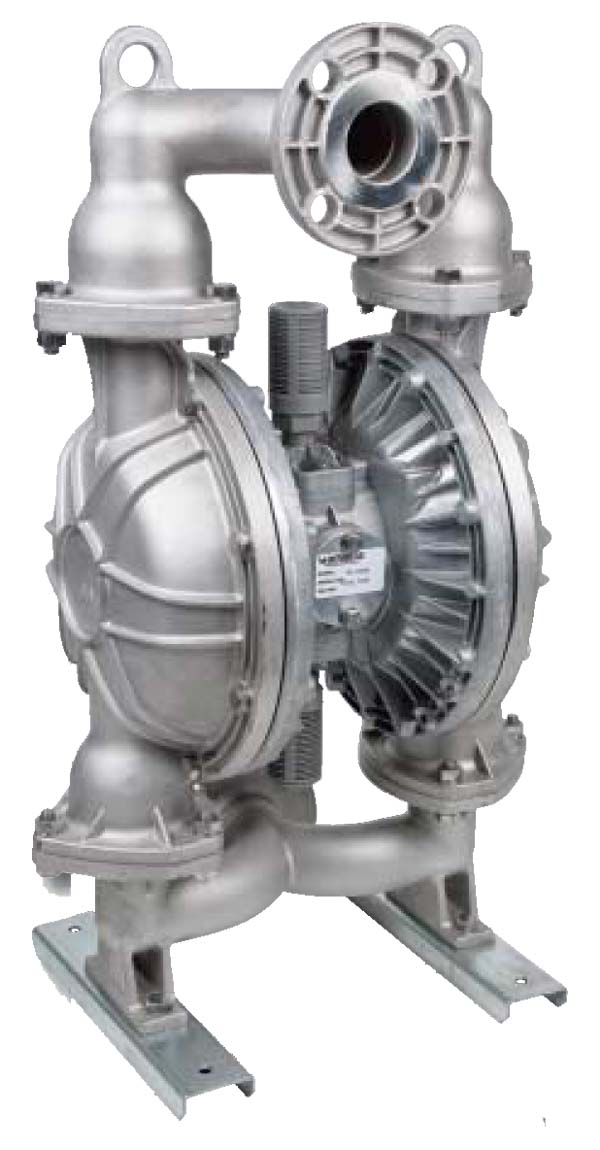 Xtreme Duty Pro™ XDP
The Xtreme Duty Pro™ XDP is designed for use in process type applications including filter press, high pressure, extended deadheading, long runs of discharge pipe and where air consumption is critical. Air power is conserved by actuating the air valve using a mechanical linkage instead of relying on air pressure. Air power is reduced by 20% vs a standard air-actuated valve providing more pressure to drive the diaphragm assembly.
NDP-40
NDP-50
NDP-80
Nominal Port Size
1-1/2″
2″
3″
Air supply pressure range
1-8,5 Bar
1-8,5 Bar
1-8,5 Bar
Maximum discharge pressure
8,5 Bar
8,5 Bar
8,5 Bar
Maximum liquid discharge
Approx. 370L/min
Approx. 460L/min
Approx. 600L/min
Discharge volume/cycle
Rubber diaphragm type: 2.3L
Fluoroplastic diaphragm type: 0.9L
Rubber diaphragm type: 3.5L
Fluoroplastic diaphragm type: 1.3L
Rubber diaphragm type: 6.4L
Fluorplastic diaphragm type: 3.1L
Limit of slurry
7 mm or less
8 mm or less
10 mm or less
Features
Available in 1-1/2″, 2″ and 3″ port sizes, these pumps are built on the liquid platform of a standard NDP-serie pump, but with the world's only mechanically-actuated air motor. Xtreme Duty Pro™ XDP pumps are capable of running on air pressure equivalents as high as 9 Bar or as low as 0,4 Bar and provide the same liquid side performance as the NDP-serie pumps.
Variable flow rates
Self priming and can Run Dry
No mechanical seals
Explosion prevention measures are unnecessary
Can handle slurry and high viscosity liquid
Easily maintained & complete aftersales service